Methodology
Project Management and Execution
In contract cleaning, as in any service industry, the key to customer satisfaction is careful planning. Our service starts with the use of comprehensive implementation to ensure the smooth transition of the service provided by Centrepoint Cleaning. All new projects involve a high degree of planning by our management staff. We endeavour to identify all issues, responsibilities & risks prior to commencement – dependent on timetable.
Once identified, these are assigned to various staff within our company, whose skills & knowledge are utilised to complete all necessary preparatory actions.
Each project is headed by a Project Manager, whose role begins with the start-up of the project and continues until the services provided meet the client's stated levels.
Communication & Supervision
We provide a comprehensive program providing a number of communication channels to deliver effective and timely communication between ourselves and the client. Clients have the convenience of open communication channels with all of our staff, with all requests being acted on within a reasonable time period.
Our office is contactable 24/7 for any consultations on cleaning related queries.
Stakeholder feedback
Performance reviews are conducted quarterly and building inspections are carried out monthly, or at the client's request. The next level of communication is the weekly / fortnightly / monthly visits by either our Area Manager or Managing Director [as agreed] with the client's representative. This is a formal \ review process where all inspections are completed and reviewed for client satisfaction.
Reporting – Internal & External
We have developed a reporting system that requires regular review of any comments or concerns that are addressed to us.
Customer Service and Continuous Improvement
We firmly believe that by maintaining a high level of professionalism in all areas of our business, we are better able to address any potential concerns swiftly and efficiently. As a result, we take continual improvements seriously and have developed and implemented several programs over the past few years.
We encourage a high degree of communication between our staff and management. We have found that this provides an atmosphere in which many issues are discussed, potential concerns identified and current issues quickly remedied.
Feedback
We always welcome feedback from our clients. If you are dissatisfied with the service you receive from us, then we would like to hear about it. Your feedback helps us to continuously improve the services we deliver.
INTEGRATED MANAGEMENT SYSTEM [IMS]
Centrepoint Cleaning's IMS [comprising Quality, OH&S and Environmental] is not just a piece of paper but a company philosophy that seeks continuous improvement in the performance of all aspects of business conducted by our company. It emphasises the understanding of flexibility and variation, the importance of having a goal against which performances can be measured, and total commitment of all staff in the pursuit of such improvement.
The scope of the Management System covers the process of commercial cleaning including general cleaning as well as cleaning of windows, carpets, washrooms, bathrooms, kitchens, canteens, car parks, high pressure cleaning and hygiene services.
The following is a summary of the scope of the system within Centrepoint Cleaning Management System: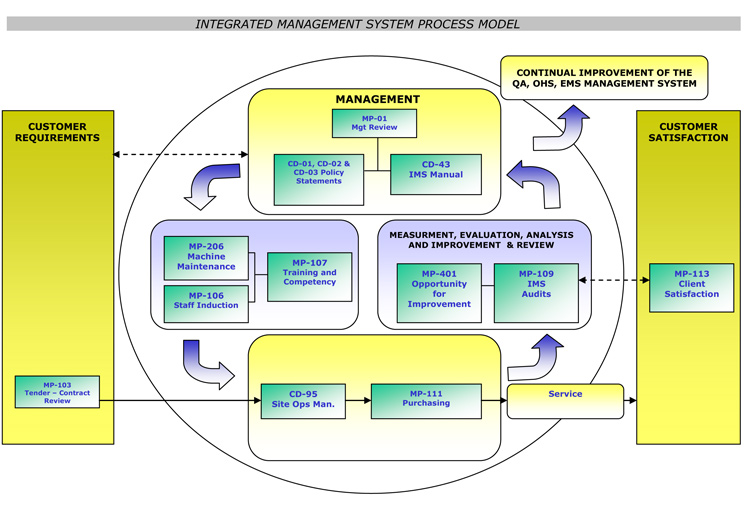 Certificates
Click images below for larger view
Training & Development
We take an active interest in the training and development of our staff by providing many opportunities to enhance & refresh cleaning skills on site.
This commitment is supported by our Quality Management System and by our commitment to affirmative action.
All staff are fully instructed in every facet of their required tasks, as outlined in the client's specification.
Centrepoint Cleaning Pty. Ltd. encourages and supports staff to complete Certificates 2 & 3. These certificates cover the following areas:
Occupational Health & Safety;
Quality Management Systems;
Anti-Discrimination/Harassment Policy;
Affirmative Action Policy;
Correct usage & handling of equipment & consumables;
Safe handling of hazardous materials and waste – including sharps;
Public relations;
Management & supervision;
First Aid Level 2 minimum
Occupational Health & Safety
OHS POLICY STATEMENT
Centrepoint Cleaning Pty Ltd is committed to providing & maintaining a safe working environment for all its employees in compliance with Occupational Health and Safety Act 2004.
We set and review our policies, objectives and targets regularly within a framework of consultation with our employees and other interested parties.
We are committed to establish measurable safety objectives and targets aimed at prevention of work-related injury and illness.
We continually seek to improve our performance in respect of health and safety by following the processes and reviews laid out in our management system in accordance with ISO 45001:2018.
All employees shall take reasonable care for their own health and safety, and that of their work companions and the public, and to support and assist the company objectives to improve health and safety conditions in our workplace.
We are fully aware of the implications of the Occupational Health and Safety Act on our business activities. We will continue our commitment to providing Clients' employees with the safest and most productive work procedures to meet, and exceed, expectations in relation to Occupational Health and Safety.
With this in mind, we have implemented a detailed OH&S Manual that clearly illustrates our commitment to all relevant legislation fundamental to this business.
Environmental Management
ENVIRONMENTAL POLICY STATEMENT
Centrepoint Cleaning Pty Ltd is a sophisticated, state-of-the-art cleaning and facilities management organisation working to the highest quality standard. Its mission is for all staff to work as a team to provide our customers with the best and safest possible service that we can provide.
At Centrepoint Cleaning, we are committed to minimise the environmental impacts of our activities on the environment.
To achieve this aim we are committed to minimise waste of materials, substances and energy.
We are also committed to purchase and use materials, substances and equipment that are environmentally friendly and minimises environmental impacts and the prevention of pollution in accordance with the ISO 14001:2015.
In our workplace and through this environmental policy statement, we shall commit to comply with applicable legal requirements and other requirements imposed upon us which relate to our environmental aspects, whilst continually improving the effectiveness of our management system and to the recycling of materials and substances with the aim to increase the portion of recycling and waste minimisation each year.
This policy statement provides the framework for setting and reviewing our environmental objectives and targets through our plan and is communicated to all persons working for the company and displayed for the general public to view.
We regularly review our activities to bring about better outcomes in our environmental performance.
We are committed to maintaining natural resources and to delivering cleaning services that do not negatively impact on the environment. Centrepoint Cleaning is able to meet this objective by constantly educating our workforce as to the high level of environmental management that is expected.
Our Environmental Policy, as well as our Safety and Environment Handbook, details various methods employed by our company to achieve sound environmental performance and demonstrate our commitment to providing cleaning services in an environmentally friendly manner.
Quality Management
QUALITY POLICY STATEMENT
Centrepoint Cleaning is a sophisticated, state-of-the-art cleaning and facilities management organisation working to the highest quality standard. Its mission is for all staff to work as a team to provide our customers with the best and safest possible service that we can provide.
Centrepoint Cleaning pledges its intention to work with all staff to create the safest and best work practices while consistently meeting customer requirements and expectations, for all mutual benefit.
We intend to meet all negotiated requirements and expectations of each and every customer, and will insist that our staff provide the same high standard.
We will support this commitment through the communication, training and development of our staff to ensure that our company goals and quality objectives are understood, implemented and maintained in accordance with and compliance to ISO 9001:2015
To ensure the achievements of the above objectives, we remain committed to continually improve our services and processes through the establishment of measurable quality objectives with set targets and the collection and analysis of data for these objectives to determine areas for taking preventive actions for improvement.
The Centrepoint Cleaning Quality Management System will be implemented to support all the cleaning operations on behalf of our client. The Quality Manual is considered the quintessential tool in achieving total quality management for projects and will ensure that Centrepoint Cleaning delivers the cleaning services to our client using "the best practice".